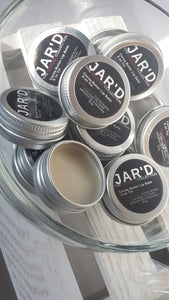 Our buttered lip balms are made to help sooth, renew and condition dry cracked lips. Loaded with antioxidants, vitamins and anti-inflammatory properties to help restore the softness to your lips. 
Ingredients: Organic(*) Unrefined Raw Cocoa Butter*, Unrefined Virgin Coconut Oil*, Sweet Almond Oil* and Beeswax.
Directions: Twist off tin lid, rub finger on balm to obtain a light coat and rub into lips until desired moisture is reached. Twist lid back on tightly.
**Please note that this product can melt when left in direct sunlight or near hot temperatures. If tin is warm or the balm has melted, place in a room temperature setting and allow to cool and harden. Melting will not effect the intended use or benefits of this product.**  
These statements have not been evaluated by the FDA. These products are not intended to diagnose, treat, cure, or prevent any disease. These products should be used only as directed on the label. All ingredients are generally safe to use, please discontinue use if reactions occur or allergies are known. We are not responsible for allergic reactions as all ingredients are listed as shown.