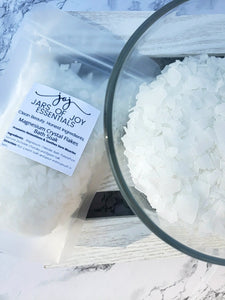 The crystals you didn't even know you needed! 
Magnesium is something we are all lacking daily and our body's needs. Our Magnesium Bath Soak is a quick and effective way to replenish your magnesium levels. This helps promote a goodnight's sleep and help you wake more energized. Good for those rough training days. Magnesium is best absorbed through your skin.

Magnesium helps to promote relaxation by reducing muscle aches and pain. Great for headache, improving symptoms of PMS and soothing restless leg syndrome. 
Ingredients:  Magnesium Chloride Bath Flakes(Pure Genuine Zechstein Chloride)
**Please note that Magnesium can irritate skin for those with super sensitive skin. If itching or burning occurs, do not continue use on skin. ** 
Directions: Run a warm bath and pour entire pouch in bath. If you prefer to use the cloth bag provided for easy clean up, pour the pouch into the cloth bag and drop it in the tub closet to the fountain to help the water penetrate the bag and soak into the bath water.
These statements have not been evaluated by the FDA. These products are not intended to diagnose, treat, cure, or prevent any disease. These products should be used only as directed on the label. All ingredients are generally safe to use, please discontinue use if reactions occur or allergies are known. We are not responsible for allergic reactions as all ingredients are listed as shown.